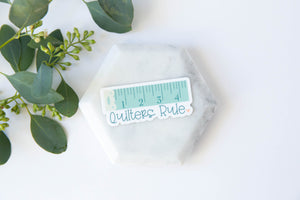 Quilters Rule Vinyl Sticker
Our Quilters Rule Vinyl Sticker features a hand-drawn measuring tape with the hand-lettered phrase "Quilters Rule". It's perfect to gift to a friend, brighten up your sewing machine, water bottle, phone, laptop or wherever you need a little bit of color and fun!!
Size: 3" x 1.32"
Materials: Die Cut Stickers are made of thick durable vinyl that protects them from scratches, water and sunlight. They are dishwasher safe too!!
Designed by Kristen Perreault