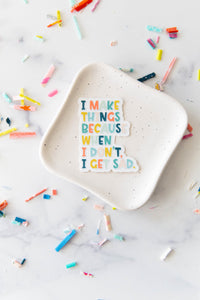 Introducing our heartfelt and relatable sticker, I Make Things Vinyl Sticker. It features the hand lettered saying "I make things because when I don't, I get sad". This powerful statement perfectly captures the essence of the creative soul. 🎨✨

Are you someone who finds solace and happiness in the act of making? Does the creative process bring you joy and fulfillment? Then this sticker is an absolute must-have for you!

Crafted from premium vinyl, this sticker is not only durable but also weatherproof, making it suitable for various surfaces and environments. Whether you choose to embellish your laptop, notebook, water bottle, or any other beloved item, this sticker will serve as a reminder of the therapeutic power of creativity.

Add a touch of inspiration and personalization to your belongings with this heartfelt sticker, sparking conversations and connections with like-minded individuals. It's also a thoughtful gift for fellow creatives, reminding them of the joy and fulfillment that comes from bringing ideas to life.

Size: 2" x 2.5"

Materials: Die Cut Stickers are made of thick durable vinyl that protects them from scratches, water and sunlight. They are dishwasher safe too!!

Designed by Kristen Perreault