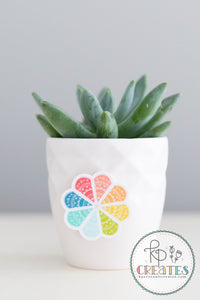 Mini Rainbow Dresden Vinyl Sticker
Our Mini Rainbow Dresden Vinyl Sticker features a hand-drawn, brightly colored Modern Dresden with cute details but is smaller than our original design. It's smaller size makes it great to fill in gaps between other stickers in your collection. It's perfect to gift to a friend, brighten up your water bottle, phone, laptop or wherever you need a little bit of color and fun!!
Size: 1.5" x 1.5"
Materials: Die Cut Stickers are made of thick durable vinyl that protects them from scratches, water and sunlight. They are dishwasher safe too!!
Designed by Kristen Perreault